Last Updated on May 24, 2022 by Alex
Welcome to our BitLQ review and scam investigation. BitLQ is advertised as an easy-to-use automated trading app and a software which is making people rich. In reality, the BitLQ scam is merely another cloned website and actually promoted by a crafty lot of swindlers operating from the United Kingdom. Due to legal advise, we are not permitted to write their names on this review but feel free to email us and we will tell you exactly who they are and where they are located.
So, when we started receiving complaints regarding the BitLQ scam we decided to dig in and start making proper inquiries. As expected, when we conducted our £250 deposit test the broker which was allocated to us was named "Capital Coin", and it has a registered business address in Belize. Belize is a dodgy legal jurisdiction which is commonly associated with tax shelters, shell corporations, and a myriad of other dubious activities.
This makes perfect sense to us since we noticed a fake Dragons' Den advertisement which explicitly states that Peter Jones is using a new "wealth loophole" to generate money online. Well, our alarm bells immediately started to ring when we spotted this advertorial-type web page and that's when the dots started to connect. Based on that fact, we now know that the people who are responsible for promoting this fake ad are closely tied to the dishonest London-based affiliate network we previously mentioned in our opening statement.
So if you are convinced that the BitLQ app is a genuine trading software, we recommend you take a couple of minutes and read our independent BitLQ review and scam investigation. Our staff of researchers was able to produce significant evidence which will astound anyone who is considering buying into this sham. As for matters pertaining social and corporate responsibility, well these concepts never even entered the mind of these crooks for a minute!
Official Website, Login Page, and Members Area: There Are At Least 4 (Four) BitLQ Websites, and they all claim to be the official one.
Proof of Scam
Here you can see the BitLQ app main sales page and registration area. Please look at the section on top where the scammers are saying "Bitcoin is Making People Rich".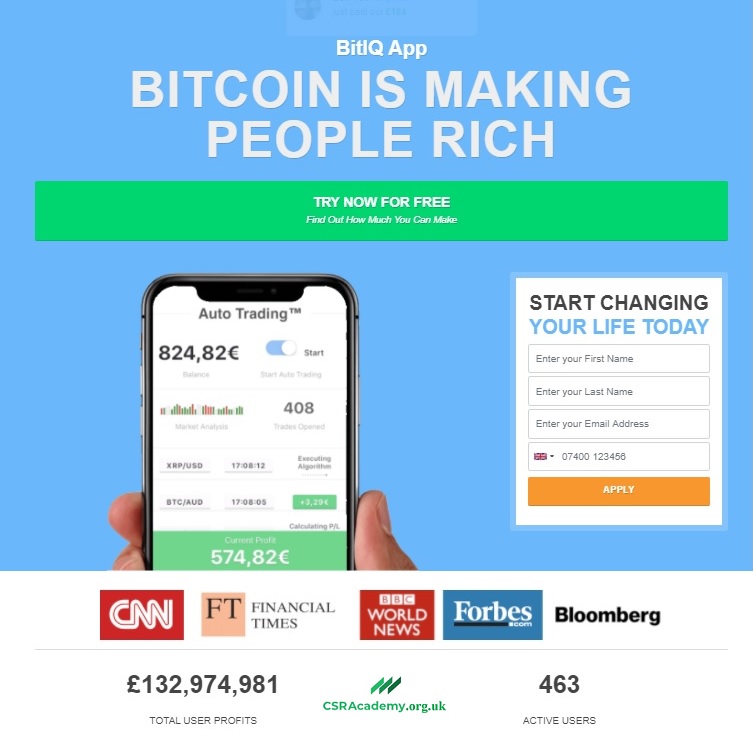 And here we can see 4 (four) different templates of the same exact website. Each time a different name is used and in some cases a slightly different design. Suffice it to say, there are many other clones of this website and it is constantly being used by scammers to promote their schemes.

BitLQ Fake Testimonials
Below is a screenshot of the BitLQ app testimonial section. A quick check reveals to us that it is copied verbatim from from some of the other clones and used in a very deceptive manner.

And here we have two other versions of the BitLQ website. One of them would have you believe that joining this program will make you a part of a "trading community today", whilst the other tries to sell you the idea that BitLQ is an "easy-to-use app" which does it all for you. All versions of the BitLQ trading software are scam regardless of how they look or the idea they try to sell you.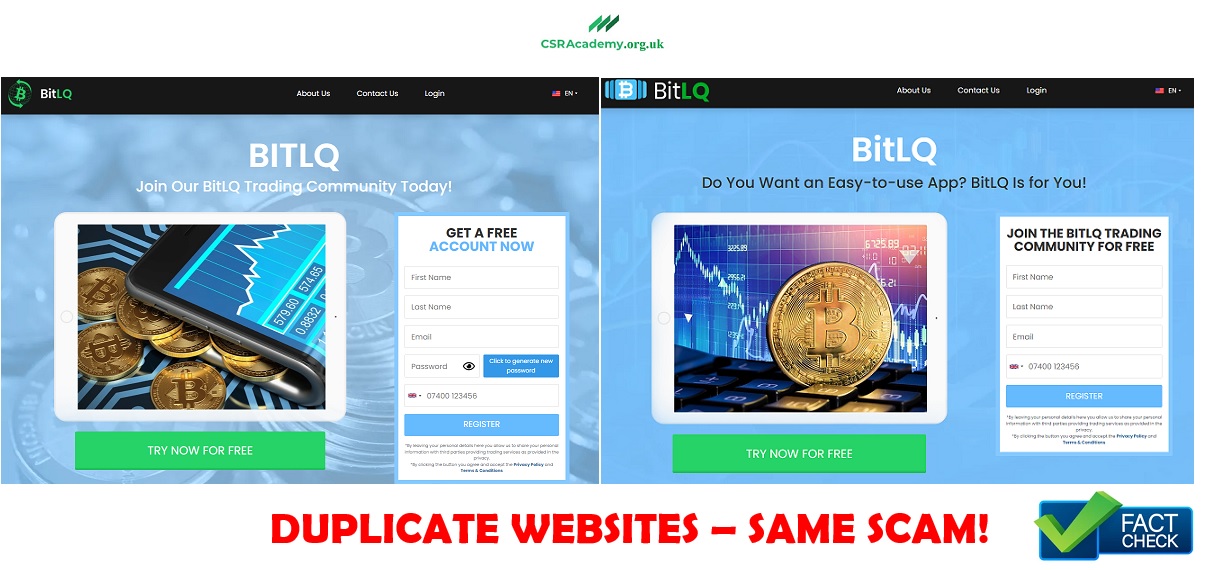 Fake BitLQ Reviews on Trustpilot and Reddit
Here we have a fake BitLQ on Truspilot. If you look at the contact section marked in a red box you will see that all of these reviews are made by the same scammers. All of the Truspilot profiles which provide positive reviews are fake, and the same goes for other well-known forums and social networks such as Facebook, LinkedIn, or even Instagram.

BitLQ Fake News
We have seen a fake BitLQ article which uses the Dragons' Den cast for promotional purposes. However, scammers are also notoriously known for using Martin Lewis and Holly Willoughby as a source of fake celebrity endorsements.
What Is BitLQ and How Does It Work?
The BitLQ app is supposed to be a fully automated trading software which buys and sells cryptocurrency contracts at optimal or favorable market rates. In the BitLQ sales page there is also a mention of algorithmic trade execution and a cutting edge signals platform.
BitLQ Review, Can You Really Generate Quick Money With BitLQ Or Is It A Scam App?
The BitLQ scam software is nothing to write home about. In fact, after reading some of the complaints we received it became apparent to us that some victims are actually ashamed for allowing themselves to be fooled into investing with such a fraudulent trading app.  When we conducted our £250 deposit test, we immediately noticed that there is no software to begin with. In fact, the broker's account manager told us he is not familiar with BitLQ and tried to sell us an alternative system which he claimed "performed much better".
The non-existent BitLQ scam app is also elusive in the sense that we are actually the first ones to expose this thieving software. Anyone searching for a genuine BitLQ review will find themselves immersed in very well-written articles on polished websites that specialize in search engine promotions. However, no matter how appealing a website may look and how well they try to present their arguments the truth eventually prevails and at some point these websites will fizzle out and disappear into a dark and unknown abyss together with their fake BitLQ reviews.
BitLQ Settings, Signals, and Trading Dashboard
The BitLQ scam software pretends to offer a trading dashboard, however this could not be further from the truth. We checked and there is nothing which even remotely resembles a dashboard or indicators of any kind. We also constantly receive questions regarding settings and if it is required to start or stop trading manually. This question is irrelevant because there is no software, hence there are no signals or strategies of any kind which are implemented through BitLQ.
| BitLQ App | Compared To Other Bots |
| --- | --- |
| Licensed / Regulated | Absolutely not |
| Free Demo Account | One provider offers demo, however it is rigged. |
| App Reliability | It's not reliable. |
| Customer Support | There is no customer support. |
| Minimum Deposit | £/€/$250 |
Is It Free?
BitLQ is definitely not free! It will cost you at least £/€/$250 to get started, and we know for a fact that in some cases even twice as much is requested. The crooks who are responsible for charging your credit card are third party processing companies that are integrated with the brokers that have been arbitrarily assigned to you.
BitLQ Cashier FAQ
We have reached the most sensitive part of this BitLQ review, and it has to do with deposits and withdrawals.
Q. How Easy Is It To Fund My BitLQ Account?
A. Depositing is quite simple. Any old credit card will do.
Q. What About Making Withdrawals?
A. BitLQ is a scam so you will not be able to withdraw your money.
Q. What Payment Methods Are Available?
A. In most cases you will only be able to use your credit card.
BitLQ Tax Related Questions
Taxes should be the last thing on your mind since taxes are levied on profits not on losses. So unless you need a tax write-off for business purposes your mind should be at ease.
Alternative Systems That Work
Believe it or not, there are systems out there that actually generate profits on a consistent basis. Once we spot them we start testing them and if they actually work we add them to our recommended section on a provisional basis. If the app performs long-term then we give it our official stamp of approval and recommend it to our members.

BitLQ App Review, Summary, and Conclusions
The BitLQ scam software and automated trading app is a blacklisted get-rich-quick scheme. Anyone trying to sell you the idea that it is a genuine cryptocurrency trading app is lying to you in the most blatant and misleading manner. If you had the misfortune of joining this nefarious program we advise you to unsubscribe immediately and refrain from investing.
We know for a fact that if you invest, these jackals will be calling you night and day to get you to keep funding your account. Only this time they will ask you to invest significant amounts of money and tell you that the only way to make it big is to risk larger amounts. If you decide to invest you will quickly see your money evaporate and the so-called account manager will keep trying to sell you other lies so you continue investing. That is the nature of this beast and it will not change anytime soon.
Should you require any additional information or references, please reach out and message us through our contact page.