Last Updated on July 7, 2022 by Alex
BitiQ Review. BitiQ is advertised as an automated trading software which uses adaptive technology to generate winning trades. But is that really true or is BitiQ scam app? Our band of crypto sleuths launched an extensive investigation. As a result, we were able to come up with some very interesting facts which will be presented to you in our extensive BitiQ Review.
Our £250 Deposit Test: We invested our money through the BitiQ scam app. Everything was lost after about 10 minutes with a broker named "Star Capital".
A quick check on the broker website reveals it has a registered business address in Bulgaria, which is a shady legal jurisdiction. Our account manager Jason Silver called us up after about an hour and asked us to invest an additional £5,000 using his "tested strategy". After we explained to Jason that we were not interested in investing additional funds before seeing a minimal return on our initial investment, we were basically shrugged off in a very rude and insulting manner.
Once we experienced the horrors we had to go through, we felt obligated to explain what happened to us so our viewers can avoid going through the same ordeal. So if you have read somewhere that the BitiQ scam app is a lucrative trading platform and signals app, we urge you to think twice and consider your options. Why not take a few minutes and read our BitiQ review. Today we know for a fact that it will surely save you a few quid as well as a hefty dose of regret.
Official Website, Login Page, and Members Area: There are many sites claiming to be the official app. They are all fraudulent.
Proof of Scam
Below you can see a screenshot taken from the official BitiQ app website. Please refer to the headline where it says "Bitcoin Is Making People Rich".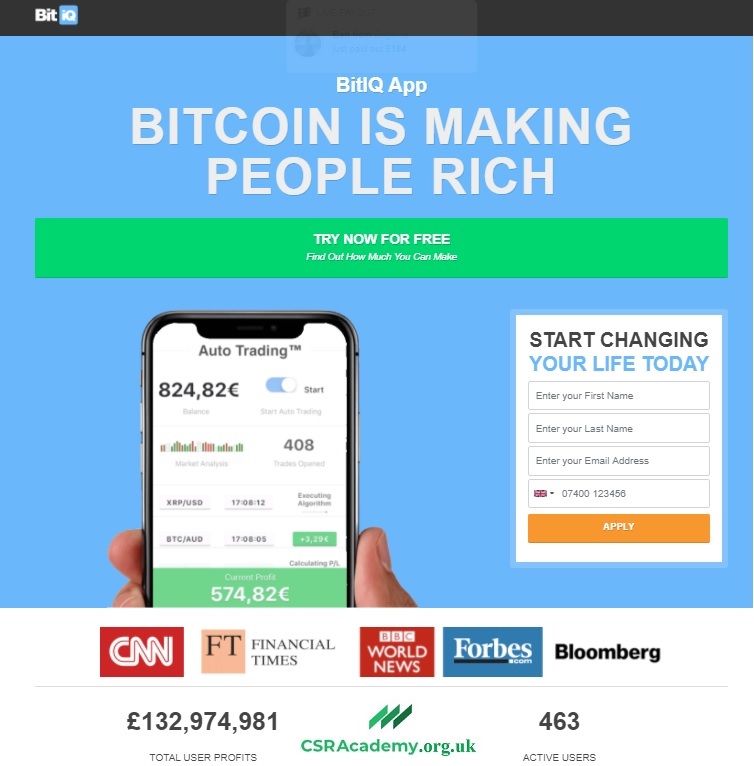 Now, if you take a peak below you will see the same exact sales pitch. Only this time it is being used to promote other websites. This type of website is what we refer to as a production line scam, which is an interchangeable template that can be reused. The affiliate networks simply switch logos, names, and maybe even slightly modify the design. But the concept is the same in all cases. Namely, to use a format that is effective at convincing people to believe they can become rich if they only invest a small amount of money.

BitiQ Fake Testimonials
The BitiQ scammers know how to put on a show. That's why they allocated an entire section of their fake website for testimonials. However, non of these testimonials are real. They are all copy/paste images with fake profiles that have been scraped off the internet.

For example, here we can see that "Laura Pearson" is not a real person. Her image was stolen from another publication without permission. The same can be said about the rest of the profiles in the testimonial section.
Fake BitiQ Reviews
With one exception, all of the BitiQ reviews on the first page of Google are fake. The review websites are endorsing this bogus app, and that is because their owners receive affiliate commissions when customers enter through links on their websites. This is probably the most troubling aspect of this scam, but there is nothing anyone can do to change it.
There are professional search optimization companies out there that understand how search engines work. These people base their entire livelihood on being able to trick people into investing. They are not planning on stopping anytime soon.
BitiQ Fake News
There is a BitiQ Elon Musk campaign which is being promoted now by scammers. In the interview, Musk is saying he found a new way to make money and he is offering it to the public at no cost. Customers clicking the links inside the fake news article are directed to the BitiQ website where they are prompted to join. We have noticed additional fake celebrity-endorsed articles, and they all operate in the same way.
What Is BitiQ and How Does It Work
The BitiQ app is marketed as an automated trading platform which uses "adaptive technology" in order to generate winning trades. That's pretty much it. There is no in-depth explanation of how the engine which powers the software really works. But this is very customary with these types of get-rich-quick schemes, so we are not surprised at all by the lack of information.
BitiQ Review. Winning Adaptive Technology Or Scam App?
We have tested the BitiQ software extensively. Our staff allocated 3 full business days just for this purpose, however the test was over after 30 minutes since all of our money was lost. Five minutes after losing our money another account manager named "Steven Dorfman" called us up and asked us to invest additional funds. Naturally we refused, and that's when things started to escalate.
We suddenly felt like we were mauled by professional con artists who understand exactly what to say and what buttons to push. This is not the first time we encountered this type of criminal behavior, but the BitiQ sales staff beats the lot hands down. Additionally, after Dorfman realized we were not in the mood to lose more money he tried to sell us access to other systems. Once that didn't work for him we started receiving a barrage of spam emails with a variety of offers ranging from Forex, gambling and even business opportunities.
BitiQ Special Features
In the sales BitiQ page we don't see any mention in regards to the features. We expected to see some type of reference regarding features such as a stop-loss or take-profit mechanism. These were not to be found anywhere. When we emailed the BitiQ support staff no response ever arrived, and the broker literally told us that BitiQ is a scam.
The BitiQ Non-Existent Dashboard
There is no trading dashboard, or any type of dashboard for all intents and purposes. However we are used to seeing these types of systems so this comes as no surprise to us.
Signals, Indicators, and Strategies
In most cases one would expect to see some indicators such as MACD or Ichimoku Kinko Hyo. But these do not exist, and neither do the signals or any strategies like momentum or scalping.
BitiQ App Legal and Regulatory Perspectives
BitiQ is completely void of any patents. We also inquired in regards to PCI compliance. PCI compliance is the company protocol which is used to store and secure credit card transactions. It involves firewall settings, and requires having a compliance officer in charge of the financial aspects related to credit card processing.
No documentation was to be found in regards to PCI compliance. The same is true for ISO regulatory requirements. Most importantly, we were not able to find any type of certification from a regulatory authority such as CySec or BaFin. All of this means that BitiQ is operating illegally and under the radar without proper permissions.
Safety And Security
Having an HTTPS certificate and a padlock on your URL doesn't mean you have a secure operation. Let's not forget that credit card transactions are processed by a third party. Applying for a merchant account with a trusted PSP (payment service provider) is no easy task. Ultimately, your personal financial information is stored on the PSP server.
In many cases these entities are just shell companies that serve as as means to launder dirty money. Unfortunately, you can't really know who the person behind these shady companies really is. But even if somehow you manage to find out, in most cases its just too late.
Step-By-Step Performance Testing
Usually when a new app rolls out a series of tests are conducted. In most cases you have performance testing which is designed to see if the software is profitable. The basic formula for ITM ratio is TC/TW or total count of trades divided by total winning trades. That number is then translated into a percentage which represents the win ratio. The formula also needs to factor in fees which are deducted and there you have the total profit before tax.
No performance checks or back-testing of any kind was to be found where the BitiQ app is concerned. When we asked the support staff about this issue we were completely stonewalled. 
When we test a new app we also conduct what is referred to as a "sanity test". That means we have people register simultaneously from multiple locations and then proceed to check if there is lag or a delayed response. This is just a part of our checklist. We won't bother you with the rest of the parameters we examine.
BitiQ Cashier FAQ (Deposits and Withdrawals)
When we registered the first thing that we saw was a little pop-up screen with a bitcoin account number. We were then called up and advised to transfer money into that Bitcoin account. Once we did that the amount was reflected in our balance. We were told that our broker prefers Bitcoin, later we learned why these devious gangsters prefer digital currencies.
If we had used our card we could complain to the credit card company and file a refund request. With Bitcoin that's not possible, that money is gone! Of course making a withdrawal was not even an option since there was nothing to cash out. Our money was gone in a matter of minutes.
BitiQ Bonuses, Incentives, and Perks
Mr. Dorfman called us up a few times and insisted we start trading with a bonus. When we told him we were not interested he asked why. We then told him that it's not real money and there is a trading requirement. That means the bonus can't be cashed out. It can only be used to get customers more engaged in trading in the hope that they will invest their own money at a later time.
| BitiQ | Competing Systems |
| --- | --- |
| Licensing and Regulation | This app has no license. It is totally illegal. |
| Minimum Deposit Amount | £/€/$250 |
| Trust Rating | Zero. Totally rigged software. |
| Transparency | BitiQ is totally anonymous. |
| Customer care | Horrible. No one ever responds! |
When Silver realized we can't be fooled he didn't give up! He tried selling us a variety of strategies and alternative systems which he said are proven to be profitable. We stopped him and basically told him to leave us alone since we will not be adding a single pound to our account.
BitiQ Tax-Related Aspects
Taxes are only paid on profits. Since you will only be losing money you needn't concern yourself with declaration of funds to your local authorities. Trust us when we say that taxes are the last thing which should be on your mind.
Alternatives Systems That Work
Our staff of seasoned Forex and Crypto trading experts rummages through tens of systems in order to find a needle in a haystack. Only the apps that generate consistent wins make our short list of recommended systems. So go ahead, feel free to check them out and let us know what you think!

BitiQ Review: Closing Arguments, Conclusions, and Helpful Tips
So the verdict is in! We are blacklisting the BitiQ scam app and advising our members to avoid it. We know that it was designed with the explicit intention of defrauding innocent victims and cheating them out of their money. If you require additional proof of scam please message us via our contact page. We can only put up so many images, but we can always provide more information via email or even Google chat.