Last Updated on May 10, 2022 by Alex
NFT Profit Review and Scam Investigation: The NFT Profit app is advertised as a type of cryptocurrency robot which trades NFT-based contracts and generates "passive income with the digital art market" for its members. But is that really the truth or have we stumbled onto yet another blacklisted get-rich-quick scheme?
An NFT or non-fungible token is a data unit which can't be interchanged. It's stored on a blockchain ledger just like other cryptocurrencies, and primarily used for digital files like videos and images. Unfortunately, the NFT Profit scam trading platform has nothing to do with genuine non-fungible tokens. Conversely, it has everything to do with CFD's or contracts for difference as can clearly be seen in the websites terms and conditions section if you take a minute to read the small print you will see it.
CFD's are highly speculative financial instruments that require understanding of financial markets. If you are not acquainted with this form of online trading or at minimum have access to genuine trading systems that assist you, your will surely end up losing your initial investment along with a hefty dose of self confidence.
Our NFT Profit £250 Deposit Test
When we registered for NFT Profit the broker which was allocated to us was called "Investment Center", and it has as registered business address in St. Vincent and the Grenadines. Following a brief phone interview which was conducted by a rather pushy account manager named Dennis Gold, we proceeded to fund our trading account with £250 through the broker's cashier. After about 10 minutes that money practically evaporated and we started receiving an insane amount of phone calls from Gold's colleagues who insisted we invest at least £10,000 "if we wanted to make some real money".
Honestly, if I was doing some research and trying to figure out if NFT Profit is a scam or legit cryptocurrency trading robot I would stop right here and move on to find a genuine trading app. Still, as a professional courtesy we have to present our case in detail and explain exactly why we believe the NFT Profit scam should be avoided. So take a minute to read our NFT Profit review to see exactly how we exposed the crooks behind this latest fanciful piece of trash technology and why we believe it is nothing more than another get-rich-quick scheme.
Official Website, Login Page, and Members Area: We have spotted multiple NFT Profit websites. They are all claiming to be the official app.
Proof of SCAM
Take a look below and see for yourself how the NFT Profit website looks like. We have been exposing corporate scams and various schemes for over ten years now, and the words "fast and effective way to get rich" literally translate to get-rich-quick scheme. The fact that the scammers chose this particular combination of words pretty much seals the lid on this bogus signals app.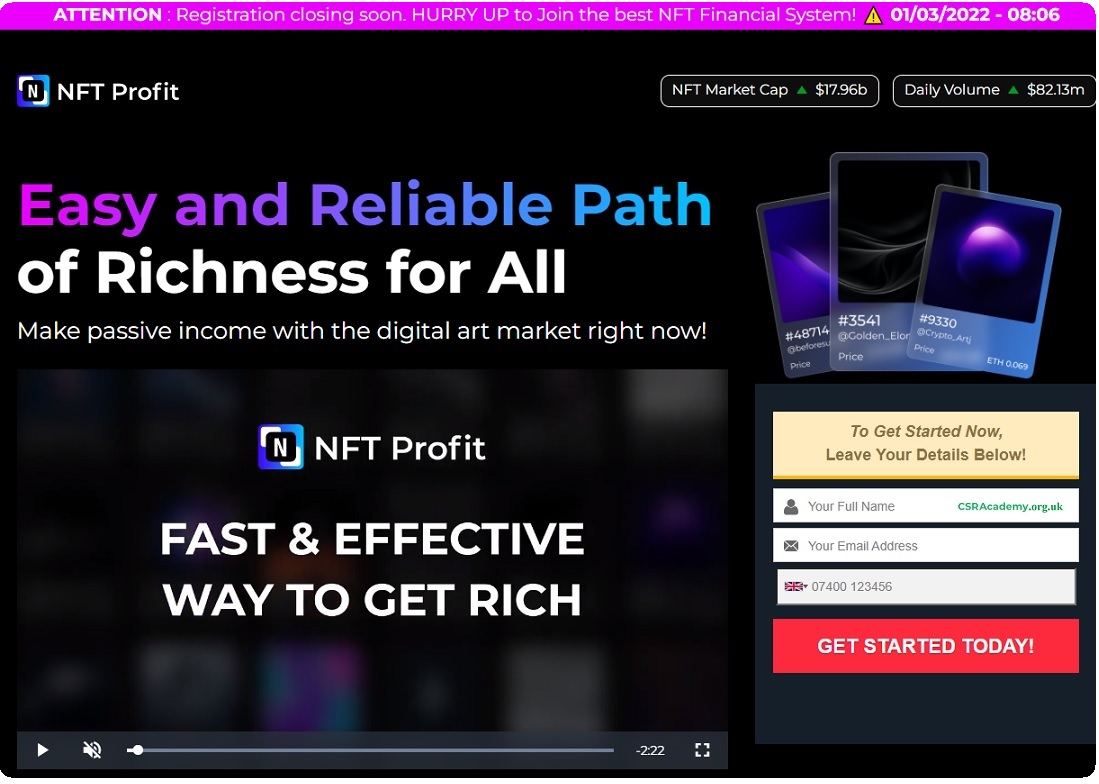 NFT Profit Fake Testimonials
Here we have Mr. Daniel Zhou who is presented to us as an "entrepreneur" who made "$10,072" during his first week. However, our research staff found out that Daniel is really an image bank actor and is most likely clueless about the NFT Profit scam or for that matter any form of online trading. The same can be said for Anna Moreno, Martin Smith, and Charles Stevens. These are all fake customer profiles which are used to deceive unwitting opportunity-seekers looking for a way to make a quick buck trading crypto online.

NFT Profit Scam: Exaggerated And Outlandish Claims Of Easy Money
If you take a look at the second image we have provided, you can clearly see that these charlatans are saying that NFT Profit has a 99.6% success ratio. In other words they are telling you that it's pretty much impossible to lose and that there is no risk involved. We all know that this is a lie which is designed to tempt or coerce potential victims into investing with a faulty software.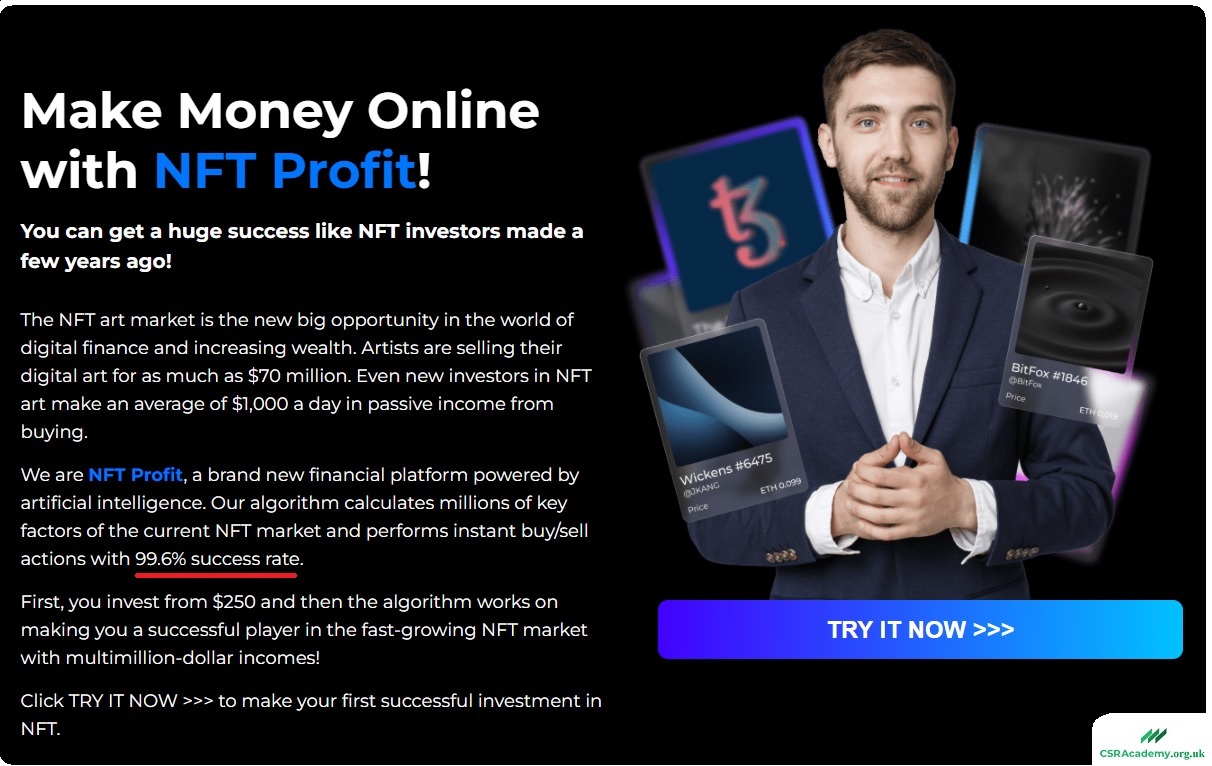 Fake NFT Profit Reviews
Here is one despicable website which is openly endorsing the NFT Profit scam and giving it a score of 9.5 out of 10. Please make sure to avoid any website that endorses every single system which is reviewed. It simply doesn't make any sense that everything is profitable. If that was the case then we would be hearing a lot more stories about new crypto millionaires using this app and we all know this isn't happening.

NFT Profit Fake News
We have received two complaints about a fake news article which is being circulated these days on Facebook as well as on various search engines such as Google or Bing. In both cases the victims mentioned Sir Richard Branson and how he was able to bring "financial stability" through this new Bitcoin trading app called "NFT Profit".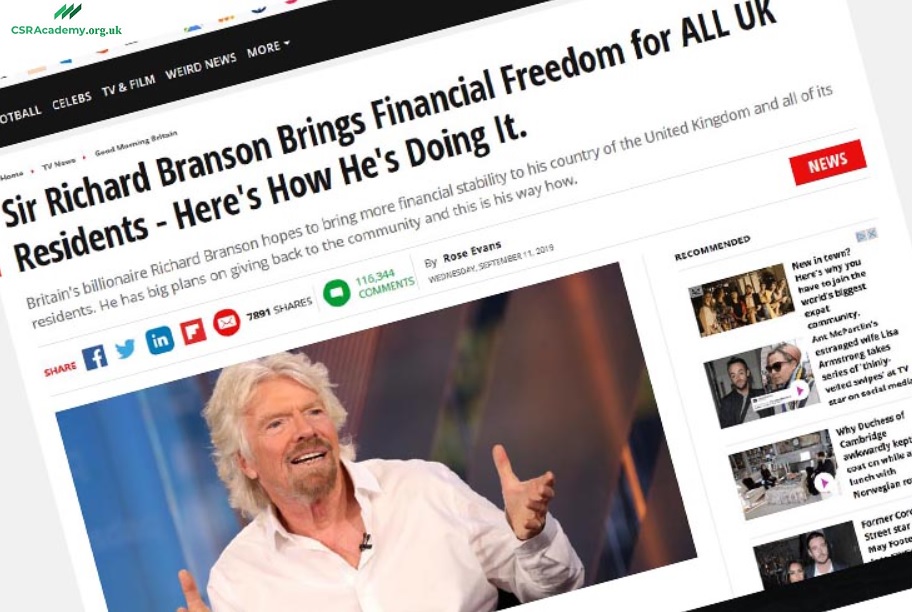 There have also been reports about celebrities and high-profile individuals like Holly Willoughby and Martin Lewis who are using the NFT Profit app. Those stories are also made up so please don't believe them.
NFT Profit: Multiple Versions Of The Same Scam
We have already spotted to versions of the NFT profit website and there will be more for sure. Please be advised, all versions of the NFT Profit scam are fraudulent and to be avoided. Please don't let anyone try to convince you that they are using the authorized or "official version". We will update this section with additional images once we see this trend continues to grow.
In a Nutshell: What Is The NFT Profit Software And How Does It Work?
The NFT Profit app is reported to be a new auto-trading software which uses "digital art" for the purpose of purchasing crypto-based non-fungible tokens or NFT contracts. It is said that the app uses an advanced algorithm to detect price movements and in that way execute profitable trades.
NFT Profit Review. Is This Trading App Scam Or Legit?
OK, so let's take a minute and set aside all the hype and overblown claims viewers read about on various review websites about how can get rich without knowing anything about NFT's or the financial markets. These are obviously well-thought out lies, and of course you would need to understand certain basic aspects of the financial markets in order to be a successful trader.
You can also disregard the sales pitch about artists who "sell their digital art for as much as $70 million", and how you can use that to generate $1,000 a day in passive income.
The bottom line here is that there are 2 scammers who are profiting off of your loss!
The affiliate marketers and media agencies who are promoting the scam.
The brokers who accept customers from the promoters and agencies.
The networks and agencies specialize in acquiring new customers. This can be done in a number of ways, but generally speaking most customers arrive after being exposed to certain promotional material in the form of a fake news advertisement or some kind of clickbait ad.
The NFT Profit scammers would have you believe this system generates passive income with the digital art. That is a lie, don't believe it for a second!  
The brokers are the ones who receive paying clients and reward the promoters according to agreed-upon contract rates. That's basically the reason why you are seeing all of these websites saying great things about NFT Profit. Actually this would be perfectly acceptable if the trading platform performed as advertised. But we all know that this could not be farther from the truth.
NFT Profit Dashboard And Settings
If you find yourself looking for a trading dashboard or some kind of signals panel, you can stop. There is no dashboard or access to any signals panel. Additionally, you will not be able to deploy any type of point and click type of strategy or indicators such as MACD or Bollinger Bands. This type of functionality is reserved for more advanced or legitimate Forex robots.
NFT Profit Regulatory Perspectives
We checked. There is no licensing or regulation of any type which can be attributed to this scheme. Furthermore, the software does not have any type of patenting, it does not conform to PCI compliance protocols, and does not offer any type of ISO documentation. That means when you register your personal information can and will get passed around to third parties and used to spam you with various offers you have not registered for. It also means your personal financial data is compromised since there is are requirements for storage on encrypted servers.
NFT Profit Review: Scam Software Diagnosed With Malware – Highly Susceptible
We had our tech team check this software out and after clicking some of the links on the fake review websites we noticed that we received an "access denied" message on our testing tools. We added a screenshot of this event for you so you can see for yourself what these thieving hyenas are doing.

NFT Profit Software Does Not Trade NFT's!
The NFT Profit trading robot has absolutely nothing to do with non-fungible tokens. This is simply a crude, vulgar, and most importantly shameless attempt designed to convince potential victims to invest with illegal offshore brokers. If you really want to trade NFT's you simply need to use the proper marketplace or app like PixelChain or NFT Creator. That's basically it, you don't need to do anything else!
| NFT Profit | Comparative Analysis |
| --- | --- |
| Minimum Deposit Amount | £/€/$250 |
| Licensing, Regulation, And Patenting | Unregulated trading software! |
| Trustworthy Trading App? | No. This app loses money! |
| Customer Care | Atrocious. Don't even try. |
| Free Demo Account | No demo is available. |
To prove our point, if you take a closer look at the NFT Profit FAQ section, you will see that they require you to purchase $/£/€250 worth of Ethereum first. That's the bait and switch, and also where misdirection is used very effectively to trick new investors.
Tested Alternative Systems
If you are searching the internet for reliable systems that actually perform, we would like to personally invite you to checkout our recommended section. We have a short list of tested apps that have withstood the test of time and keep producing results on a regular basis.

NFT Profit Review Summary, Conclusions, and Recommendations
The NFT Profit scam software and bogus automated trading app has nothing to do with genuine NFT's or the digital art market. These are just snappy sound bites from the creative minds of crafty con artists who will use every trick in the book in order to defraud potential investors. Our staff has worked diligently and produced concreate proof of scam which has been presented to you in the most transparent and authentic manner.
We understand that it can be tempting to invest in systems which received 5 star reviews by websites that seem to be authentic. However, at closer inspection it is quite evident that NFT Profit is another blacklisted crypto app disguised as an NFT trading system. For that reason we our advising our members to exercise extreme caution and refrain from joining this fraudulent service. Should you required additional clarifications or information, please message us via our contact page.