Last Updated on May 24, 2022 by Alex
Welcome to our Crypto Grind review and scam investigation. The Crypto Grind scam is advertised as an "intuitive" automated trading software which buys and sells cryptocurrency contracts on auto-pilot without any need for human intervention. However, when our research staff started snooping around, we came up with some very troubling information.
Truth be said, the speed and tenacity of which new scams are launched on a daily basis is enough to give even the most savvy traders whiplash. Still, this disturbing trend does not deter our staff of highly motivated researchers in the least bit. In fact, it just fuels our need to expose these new get-rich-quick crypto scams. This time the scammers have outdone themselves and managed to put together a new trading platform named "Crypto Grind".
But first, allow us to make an important distinction. There is a genuine service which is also named Crypto Grind, and it offers a way to locate and hire freelancers, as well as pay for certain jobs using Bitcoin. So if you are searching for a freelancer that accepts Bitcoin as a form of payment, this Crypto Grind review is not for you.
When we registered in order to conduct our £250 deposit test, the broker which was allocated to us was named "Coin Central", and it has a registered business address in The Marshall Islands. The Marshall Islands are a very well-known tax haven where criminals take their vacations and launder their dirty money. This all makes perfect sense to us since the complaints we received had to do with inability to withdraw existing funds.
Big affiliate networks like Max Bounty and Commission Junction are the ones responsible for attracting the victims and getting them to register for fake trading software like Crypto Grind. This gives brokers like Coin Central plausible deniability and a way to deflect the negative exposure which is derived as a result of false or exaggerated claims of easy money.
So before you decide to invest, we strongly urge you to read our detailed Crypto Grind review. We have managed to produce compelling evidence of scam and malicious foul play designed to defraud unsuspecting victims. We also know the real identity of the crooks behind the Crypto Grind scam and will expose their methods of operation.
Official Website, Login Page, and Members Area: There are a few websites masquerading as the "official" Crypto Grind trading app. They are all equally worthless.
Evidence of Scam
Here we have the Crypto Grind main sales page and registration area. Please take a look at the image at the center of the web page and the registration form.
And right below we can find 2 other cloned websites which use the exact same layout and registration form. The only thing which has changed is the color scheme and logos. The rest is an exact replica of Crypto Grind.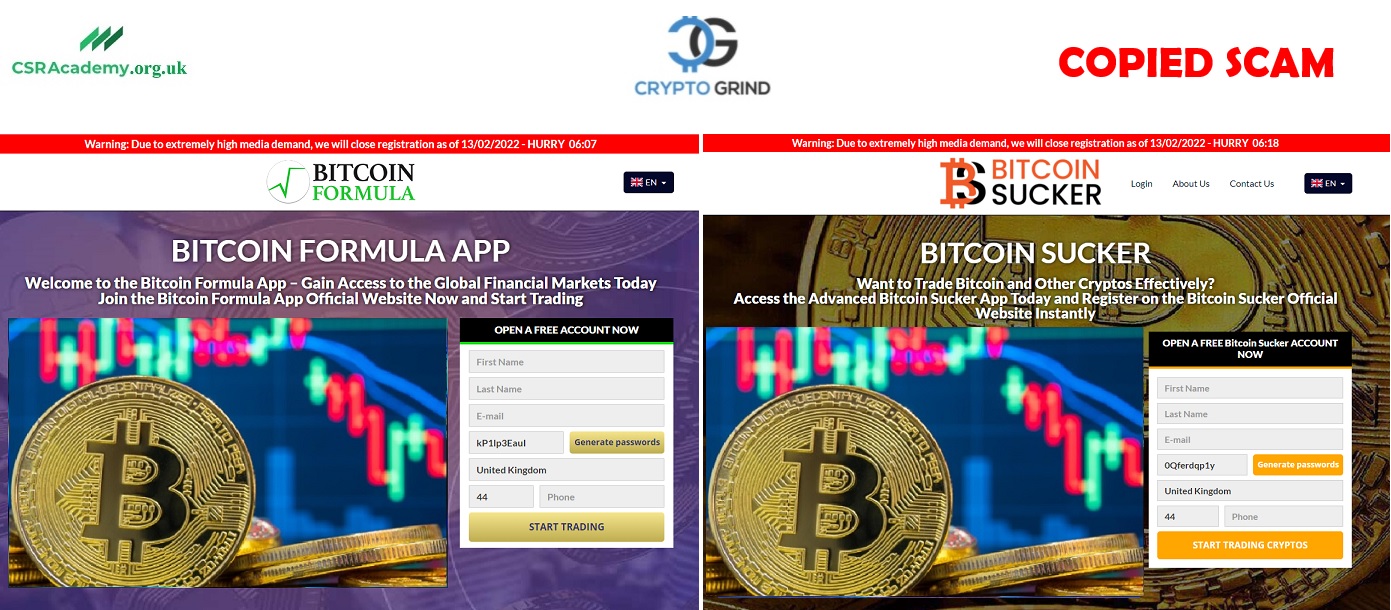 Crypto Grind Scam: Fake Testimonials
Here is the Crypto Grind testimonial section. We found it in one of the cloned websites which is circulating these days. It's quite plain to see that the con artists behind Crypto Grind are recycling an old testimonial section and "Stacey J" is really an image bank actor. The same goes for "James" and "Anton".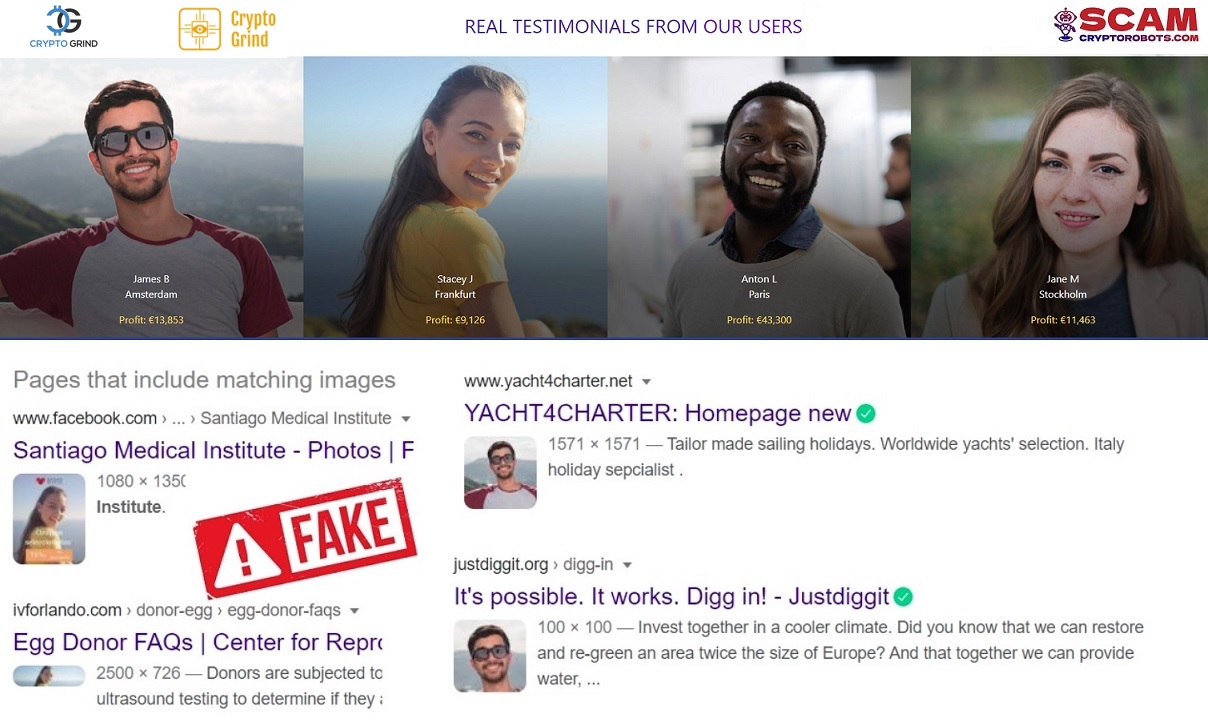 Fake Crypto Grind Reviews
Here we have a screenshot of a particularly filthy review website which is deliberately misleading the public by advising potential victims to invest with Crypto Grind. They are even giving it a 93% approval rating and saying it it "tested and verified". Well, that polished exterior and soft look won't help them in the least bit! Eventually people will understand they are up to no good and avoid those illogical recommendations.

Crypto Grind Fake News
We have already spotted a fake Mirror article featuring Martin Lewis. In the fake ad it says that Lewis found a "Home-Based Opportunity" which enables him to generate passive income online. This is of course totally fake and Lewis has complained numerous times to Facebook, Google, and other publishing platforms in regards to this despicable advertising practice.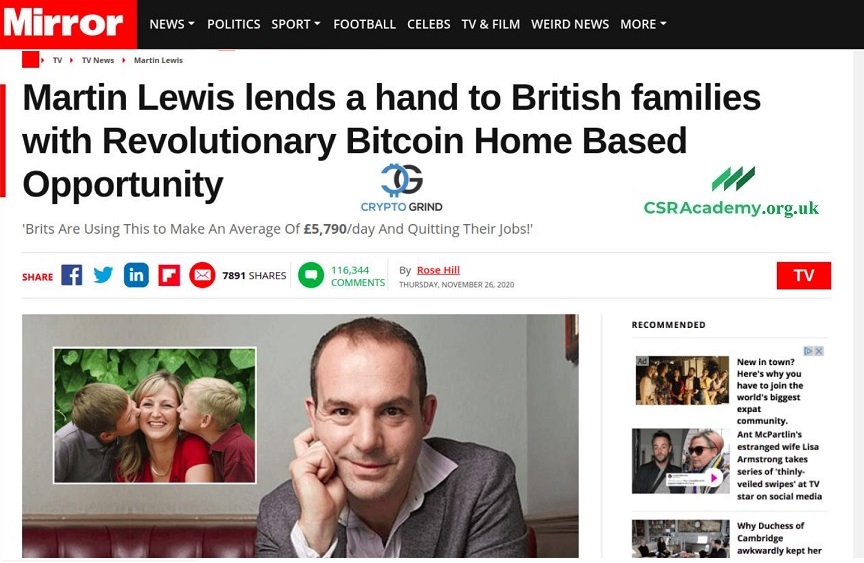 There are other fake news stories using fake BBC, UK Sun, and ITV ads with celebrities such as Holly Willoughby, Phillip Schofield, and Daniel Craig.
What Is Crypto Grind And How Does It Work?
Crypto Grind is supposed to be a new automated cryptocurrency trading software. In the Crypto Grind sales page, we can see that the scammers are offering you a way to generate some fast cash on auto-pilot. There is also a mention of a new technology and a top-notch signals trading app. That's pretty much it, so don't try searching for anything else because you won't find anything.
Crypto Grind Review. It's A Scam, Enter At Your Own Risk!
Crypto Grind is not about automated trading or generating an income through a genuine investing service. This supposed trading platform was designed with the specific intent of defrauding unsuspecting victims by making a variety of false or exaggerated claims of easy money at the click of a mouse. We actually registered for this software from two separate websites.
We invested £250 in each case, and both times the result was the same. We lost all of our initial investment in a matter of minutes, and were subject to a barrage of calls from phone numbers which were identified as spam.
One website actually offered a signals dashboard, but we noticed it was a kind of white-label type of system where the design and layout was the same and the only element which changed was the logo. When we tried to get it to work it got stuck and we were instantly advised to contact our broker for additional guidance.
Crypto Grind Scam Signals and Indicators
As previously mentioned one website offered a signals dashboard but the results were abysmal. The other one didn't offer any type of dashboard at all. It was merely a sales page with a registration form that is connected to a CFD broker. There were no indicators like Bollinger Bands or Stochastics like one would expect. However, this didn't surprise us in the least bit since the crooks pulling the strings behind the scenes here are notoriously known for deceiving victims and getting them to believe they are registering for an honest trading app.
Crypto Grind Cashier (Deposits and Withdrawals)
Depositing with Crypto Grind is super easy. You can use your credit card, and they may even let you use Bitcoin to fund your account. But try getting your money out and see what happens. You don't stand a chance of making a successful withdrawal, so don't even try. You can pretty much kiss your money goodbye.
Crypto Grind Safety And Security
We did a penetration test through one of our tech colleagues and found out that crypto ground has the most basic security requirements such as HTTPS certificates, and reasonable hosting. However, it will not withstand a serious attack such as DDOS or Brute Force since there is no active firewall.
Crypto Grind Tax-Related Questions
Fear not! We can guarantee that you will not be required to pay any taxes after trading with the Crypto Grind scam software. That's because taxes are levied on gains not on losses. Since you will not be generating any money you will not have to declare a taxable income with your local tax authority.
Crypto Grind Regulation Check
Crypto Grind is neither regulated nor legal. We checked with BaFin, FSMA, and CySec. There is no patent pending on the software which is totally anonymous. There is no product roadmap, and there is no genuine legal entity which is responsible for dealing with the fallout if anything should happen. That means the scammers get to have a field day and are not accountable for any of their actions every time a victim decides to "risk it" and invest.
Crypto Grind Privacy and Confidentiality of Personal Information
There is nothing which is close to a PCI compliance check. That means the information is not stored on separate servers and there is no ombudsman which is responsible for investigating complaints. There are also no ISO/IEC 25000:2005 certifications, so the software could be designed by any amateur programmer without going through proper quality assurance testing.
Crypto Grind Scam – Can You Help Me Get My Money Back? I Lost It All!
The short and abrupt answer is NO. There is no recourse and no way to retrieve lost funds especially if you invested with Bitcoin. Your transaction is completely untraceable and has been tumbled multiple times by professional money launderers and cryptocurrency con artists.
| Crypto Grind | Comparative Analysis |
| --- | --- |
| Regulation Status | Unregulated Trading App |
| Minimum Deposit Amount | £/€/$250 |
| Is The App Reliable? | This app is not to be trusted. |
| Is Demo Available? | In some cases, however it is skewed. |
| Customer Service | Good luck with that. |
Investing With Crypto Grind, Is It Free?
Some fake review websites will try to sell you the idea that it is a free trading app, but this is very far from the truth. £250 is the amount which is required in order to get started and trading with this fraudulent piece of rubbish, and in some cases cheeky brokers will ask you to invest twice as much in order to help them cover their marketing and operational costs.
Alternative Systems That Perform
If you are in the market for a trading app that actually performs consistently then we have what you are looking for. Once a system catches our eye and we view it to have potential, we start testing it. If it passes our screening process we add it to our recommend section on a provisional basis or trial period. If the app continues to generate money, we add it on a more permanent basis and keep monitoring it. So go ahead and give it a try!

Crypto Grind Review, Summary and Much Foreseen Conclusions
The Crypto Grind scam app and phony automated trading software is blacklisted, and with good reason. We tried to find a ray of hope in the form of a profitable trade, but were not able to. All of the trades which we executed through this app were confirmed losses, and that is not a coincidence. This type of behavior is caused intentionally, and for that reason exactly we have decided to advise our viewers and members to refrain from joining this program. Should you have any additional questions or queries, please make sure to reach out and message us. We do respond quickly.